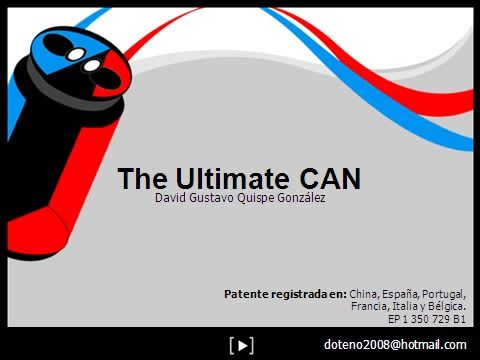 We are the owners of a patent for beverages cans: "THE FIRST BEVERAGE CAN WITH TWO SEPARATE COMPARTMENTS" , granted in China and Europe , APPLICATION PATENT NUMBER:200520017741.7. Is a mondial innovation for drink cans ,whit 2 liquids (POWER POINT IN ENGLISH AND SPANISH- ( SEE THE ATTACHMENTS)
Currently we are looking for partners in order to sell or rent the license. The Regional Government of Andalusia through the Technology Transfer Institute (Mr. Jaime Duran) and my IPR Lawyer (Mr. Jose Maria Bartrina) are assessing and giving my partner and me technical advise in this business.
We are looking for a company to reach a license agreement,sell the patent,exploitation of the patent,royalty.Patent is granted in China and Europe.The invention refers to an improved drinks can.It has the peculiarity of an internal vertical wall inside forming two independent compartments inside with the purpose of containing one or two differents drinks. All the present time the drinks are widely know with an inside space to keep the amount of drink that aproximately corresponds to one consumption.When the consumer wishes to make a combination of two different drinks,she/he must use the contents of two cans or of one can and a bottle that contain the corresponding drinks.This causes a problem, on one hand because of the high cost of the consumption,due to the need of purchasing two drinks containers and on the other hand,because the amount of drink obtained greatly exceeds the normal amount consumed.In the case of several consumers,force all of them to consume the same mix. Our invention is able to provide solutions in the mix beverages field,holding two drinks separately that can be consumed on separate occasions or together forming a mixed drink for one or several consumers.Another application would be to have two drinks in the same can without the intention of mix.For example,two juices with different flavors a consumer can taste a flavor juice,and after finish it,to taste the other flavor.Two kids with different tastes they could drink from the same can two with different flavors.In addition a can drink could contain the same drink in the two compartments.The regular can(40 cl) can be consume by two people at home 20 cl.,each one.Also, a person could drink from the 40 cl.,can drink,the half in a moment(20 cl) and the rest later,without lose the drink characteristic.Something important is that our patent allows work with different aspects of the can sa sizes,materials and shape.Also the compartments have been provisioned with respective valves connected to the location of the easy opening device in order to allow the exit of the drink contained in one compartment when the can is inclined towards the corresponding side of said compartment keeping the other exit closed.
BEST REGARDS FROM SPAIN
.
David Gonzalez
DELSURVEN. INTERCAMBIO COMERCIAL EN VENEZUELA
mail: delsur-ven@hotmail.com